Person
Doctoral Student
Historical Osteology
Department of Archaeology and Ancient History
Contact information
E-mail erika.rosengrenluhm.luse
Mobile +46 73 150 42 66
Room LUX:A112
Visiting address
Helgonavägen 3, Lund
Postal address
Box 192, 221 00 Lund
Internal post code 30
It has proven notoriously difficult to morphologically distinguishing between the postcranial bones of European bison and aurochs limiting our interpretive potential of palaeozoological assemblages. In my PhD project I will use palaeogenomics to i) genetically distinguish bones of these two species, and ii) investigate the demographics and dynamics between them, in addition to wild horse, in order to understand the patterns and causes (climatic and/or anthropogenic) to their demise and subsequent disappearance from Southern Scandinavia in the early Holocene.
My profile on CPG: http://palaeogenetics.com/erika-rosengren/
In the Research Portal you can search and find information about all active researchers, units, publications, projects, infrastructures, and more, to get an overview of Lund University research.
My profile in Lund University research portal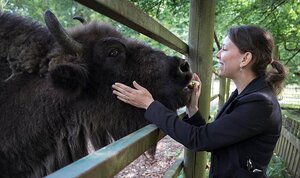 Doctoral Student
Historical Osteology
Department of Archaeology and Ancient History
Contact information
E-mail erika.rosengrenluhm.luse
Mobile +46 73 150 42 66
Room LUX:A112
Visiting address
Helgonavägen 3, Lund
Postal address
Box 192, 221 00 Lund
Internal post code 30