Master's programme
Two year Master's programme: Archaeology and Ancient History – Theory and Practice
This programme is specifically designed to meet the demands within research, field archaeology and cultural heritage activities. It offers students the opportunity to specialise in one of the four areas of study offered by the Department of Archaeology and Ancient History: Archaeology, Historical Archaeology, Classical Archaeology and Ancient History, and Historical Osteology. The programme is designed to combine the theoretical, methodological and practical aspects of these areas of study. It serves as a preparation for doctoral studies in the discipline and also helps students develop knowledge, understanding and skills that are in demand in contract archaeology, cultural heritage management and the museum sector. It also emphasises the development of transferable skills which are relevant in the labour market at large, such skills are, for example, critical thinking and the ability to reflect, written and oral communication, the management of information technology, problem solving, information retrieval, project work and the ability to analyse and make syntheses of extensive problem areas.
Programme Structure
•Compulsory courses are marked with red.
•All courses, except ARKN18 Work placement, are taught in English. (ARKN18 Work placement is intended for Swedish speaking students since we only can organize internship in Sweden.)
•During semester 2 and 3 optional courses can be chosen among the advanced courses offered. Contact the Study Counsellor for information on which optional courses that are given this semester. Note that not all courses shown are taught every semester.
•Studies abroad can be done during semester 2 and 3 after authorization by the Director of Studies and application procedures.
•It is important to apply to the courses in a way that makes the course be included in the programme.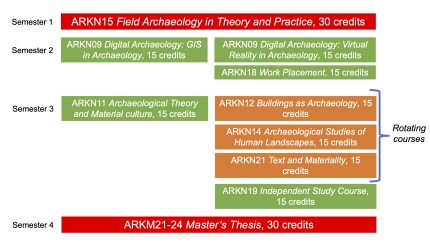 The programme comprises of two years of study. Two courses are compulsory: Field Archaeology and Landscape Interpretation (30 credits) and the Master's thesis (30 credits). During the remaining two terms of study, the students select courses offered by the Department of Archaeology or other faculties/departments. The Department of Archaeology offers a number of optional courses each term comprising either 15 or 30 credits. These courses give students the opportunity to specialise in key areas within the four areas of study at the department and are closely associated with the research carried out within the department. Here we can mention Archaeological Theory and Material Culture, Buildings as Archaeology, Human Landscapes, Text and Interpretation and our digital courses GIS in Archaeology and Virtual Reality in Archaeology.
The compulsory course Field Archaeology and Landscape Interpretation provides students with in-depth practical experience of cultural heritage activities, archaeological excavations, the archaeology of buildings and all the relevant aspects of field archaeology, such as the inventory, management, documentation and communication of archaeological findings.
The Master's thesis is written in a subject relevant to one of the four areas of study at the Department of Archaeology and Ancient History. Students are expected to work independently with a selected problem area, and to acquire in-depth insights into theoretical and methodological aspects as well as applications of them. The programme is intended to prepare for doctoral studies but also for tasks that require the ability to make presentations orally and in writing. Through dealing with a specific issue, the student acquires specialist knowledge in the field of study and the ability to produce scholarly texts.
Admission Requirements
The programme is intended for students who have a degree of Bachelor specialising in one of the areas of Archaeology, Historical Archaeology, Classical Archaeology and Ancient History or Historical Osteology. Students with a degree from another university need to document that they have completed equivalent studies. Students applying from outside Sweden must provide documentation of their proficiency in English (see admission requirements at www.lu.se/english). The selection criteria for admission to the programme are academic qualifications.
How to apply
Visit www.universityadmissions.se to apply. Applicants must submit a letter of intent till statement of purpose before the final application date. State in no more than 300 words why you want to attend this programme and what research interests you have. More information on the application procedure is available at: All you need to know.