Person
Senior Lecturer
Archaeology
Department of Archaeology and Ancient History
Director of Studies
Department of Archaeology and Ancient History
Contact information
E-mail fredrik.ekengrenark.luse
Phone +46 46 222 79 36
Room
LUX:A123 (senior lecturer)
A123 (director of studies)
Visiting address
Helgonavägen 3, Lund
Postal address
Box 192, 221 00 Lund
Internal post code 30
I am Senior Lecturer in archaeology and Director of undergraduate and graduate studies at the department. Educated at Lund University and the Mid Sweden University in Östersund, with a BA in History of Religion and an MA and PhD in Archaeology. In 2009 I defended my Ph.D. thesis in archaeology at Lund University entitled Ritualization, Hybridization, Fragmentation. The Mutability of Roman Vessels in Germania Magna AD 1-400.
My research includes the archaeology of death and burial, ritual theory, materiality, Iron Age and Early Medieval/Viking Age Europe and Scandinavia, the Swedish colony New Sweden in 17th century North America, as well as the use of digital methods in archaeological research and teaching.
I teach classes in archaeological theory and method, European and Scandinavian Bronze Age and Iron Age, as well as in Viking Age Scandinavia.
In the Research Portal you can search and find information about all active researchers, units, publications, projects, infrastructures, and more, to get an overview of Lund University research.
My profile in Lund University research portal
Editor of the Lund Archaeological Review.
Editor of the publication series Acta Archaeologica Lundensia Series prima in 4°, Acta Archaeologica Lundensia Series altera in 8°, Report Series, and Archaeology@Lund.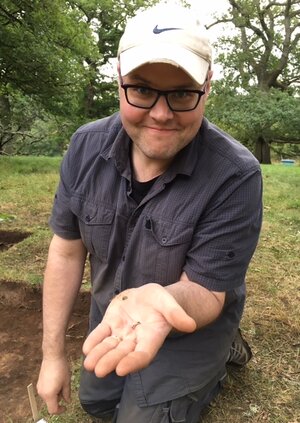 Senior Lecturer
Archaeology
Department of Archaeology and Ancient History
Director of Studies
Department of Archaeology and Ancient History
Contact information
E-mail fredrik.ekengrenark.luse
Phone +46 46 222 79 36
Room
LUX:A123 (senior lecturer)
A123 (director of studies)
Visiting address
Helgonavägen 3, Lund
Postal address
Box 192, 221 00 Lund
Internal post code 30